Conference Agenda - Now Available!
We are looking forward to bringing you the first-ever full two-day GSPRA conference where day two will feature all GSPRA-led presentations!



2018 GSPRA Conference: Making a Splash in School Communications
Join us for a full two-day conference on Fri., Oct 19 and Sat., Oct. 20 on Jekyll Island! Registration is now open. We look forward to returning to the beautiful coast of Georgia and "making a splash in school communications" with you this fall!
Conference Registration Form (PDF)

Conference Registration Form (Word)

Villas by the Sea Floor Plans and Pricing
To book rooms at the special rate, please call 912.635.2521 and mention "GSPRA" for special pricing.
Conference Scholarship Application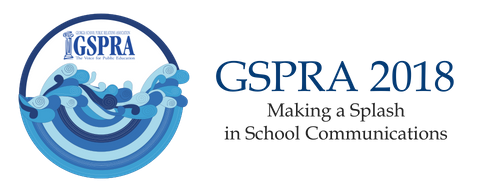 ---

The Georgia School Public Relations Association (GGsPRA SPRA) was chartered in 1973. We are a professional organization school communicators and school-community relations specialists. Your title doesn't have to say 'Communications' or 'Public Relations' to be a member of GSPRA. Those districts that have a PR, Communications, or Community Engagement function are all welcome to join GSPRA. If that is a Superintendent, great! If that is a person who performs the role of community engagement, great! There are tools that we have to help you be successful in reaching your community members.
GSPRA History:
GSPRA is an affiliate of the National School Public Relations Association (NSPRA) and was designated as a Blue Ribbon Chapter of NSPRA for 25 years until the launch of the NSPRA Mark of Distinction Awards. In 2010 and in 2015, GSPRA earned NSPRA's Mark of Distinction as an Exemplary Chapter. GSPRA members have also earned the prestigious Awards for Distinguished Service in both the single project and year-round project categories.

GSPRA is a vital medium for exchanging information across the state. With idea sharing and knowledge sessions, our professional organization provides the tools needed to be a successful school communicator. Our members are our biggest assets as we have newcomers to school PR as well as veterans. We are enriched by the addition of each member.

GSPRA offers many quality services, resources, and support for our members; including mentoring for new communication staffers. There are regional and statewide conference opportunities that each communicator can benefit from. In 2010 and 2015, our GSPRA chapter was recognized as an Exemplary Chapter by NSPRA.
---
Add a tool to the SPARK! Campaign Toolkit
As a partner with the Georgia Vision Project, GSPRA has committed time, talent, and resources to support the work of the SPARK! Campaign by providing a "toolkit" with ideas, examples, and inspiration from around the state, including logos, videos, a monthly idea generator for celebrating education, web resources, and examples.

Districts are welcome to review the contents of the SPARK! Campaign Toolkit for inspiration. GSPRA members are encouraged to submit materials (videos, stories, print materials, newspaper articles that you pitched, etc.) that illustrate how you celebrate success stories in your district. The Toolkit will be refreshed as additional resources are identified and as GSPRA members provide additional examples.