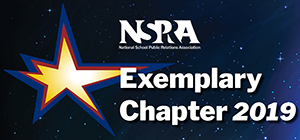 GSPRA has been awarded a "Mark of Distinction" by National School Public Relations Association (NSPRA). Our membership was the only chapter to receive this commendation in the Special PR/Communication Program, Project or Campaign special focus area.

The organization submitted an entry entitled "Branding GSPRA" in May and was notified mid-June by NSPRA Executive Director Rich Bagin, APR. This recognition recognizes the efforts of state chapters in supporting NSPRA's mission of building support for education through responsible public relations that leads to success for all students.

Thanks to Blackboard who partnered with GSPRA to present the new website and logo to the membership during the Fall conference.